BUY POSTCARDS OF ZANSKAR - WINTER COLLECTION
Buy some postcards and support the Zanskar Ski School! These beautiful winter scenes are all from Zanskar. A set of 6 postcards costs CAD$ 20 / UKú 10 / US$ 20 / EURO 15, exclusive P&P. For orders please send us an email.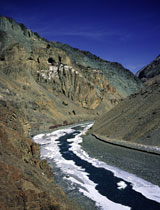 View over the Durung Drung glacier that flows beneath the Pensi La (4401 metres). In winter the Pensi La road is blocked with snow, keeping Zanskar in frozen isolation for 7 months each year.
A skier follows the bench of the summer road into Zanskar. The Hagshu valley is off to the right.
Travellers on the frozen Zanskar River, known as the Chadur (or "blanket"). The Chadur provides the only winter access to Zanskar during an 8 week cold-weather window every year.
View up the Parkachik Glacier towards the sharp rocky summit of Kun (7087m), on the left, and the snowy pyramid of Nun (7135m), on the right. In summer it is possible to ski on the Nun glacial plateau - far right.
Panorama across the Zanskar-Kulu-Lahaul High Himalaya. The snow saddle in centre is the Rhotang Pass, which marks the head of the Kulu valley.
A frozen river leading to Phuktal Gompa, Zanskar.